Greeting
Greeting
We nurture students to be truly international-minded people with the ability to bring about change in society.
Talents are sought after by the ever-changing international community.
It is not just about the stereotypes of international students, but it is about people who are able to bring about a change in society and contribute to the construction of a ustainable and prosperous new global society. In order to nurture such important human resources, we need a new kind of education with the core values centered around the search for truth, international understanding and international collaboration, transcending the barriers of nation, ethnicity, gender, culture, history, language, etc.
Since OIS'opening in 2003, it has introduced a world-standard educational curriculum and has contributed to the development of human resources that can play an active role in an international society, and to the creation of a society with world peace and respect for nature through diverse exchanges.
At Okinawa International School, our students gather and learn from each other and develop themselves as internationally minded individuals, so that they can advance to universities around the world and eventually become true global elites who will demonstrate their abilities in various fields, including international organizations, such as the United Nations and multinational companies. The three years of study at OIS will be an invaluable time for the young people who dream of making a leap into the world to make this ideal a reality.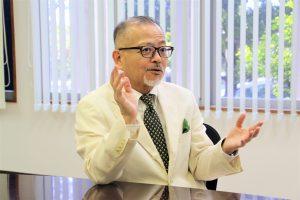 理事長/校長 知念 正人
Director/Principal Masato Chinen
Professor Emeritus Waseda University

Dr.Yoshiaki Shinoda
OIS was founded in these chaotic times to give students idealistic visions of life for the future and to develop young people who will go out into the world and change it. By challenging yourself, you will accumulate advanced knowledge, and from this knowledge, you will be able to succeed. You can fulfill this hope while having a good learning experience at OIS, where you will receive friendly guidance, clarity on your life's goals, and adequate knowledge.
Challenge creates knowledge. Knowledge creates character. Character creates destiny.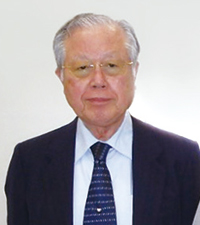 Professor Emeritus, Akita International UniversityChairman, Japan Association for Global Competency Education

Michio Katsumata
When a Japanese youth wants to contribute positively in the international scenes, he (or she) has to learn things Japanese and practice to explain in English what are the superior things in Japanese culture. He should acquire the English proficiency hopefully up to the level of 80% of Japanese language he can freely conduct. Unlike other international schools in Japan, which are mostly dominated by English immersion education, OIS is very unique to offer the program of Japanese language, literature and culture as well as scientific and technological knowledge to study global environmental issues, based on IB methods. I highly recommend OIS as the best and ideal place for Japanese youths who want to become global leaders in the future with high pride as Japanese citizens clamored with high English proficiency, and with deep knowledge of science and technology.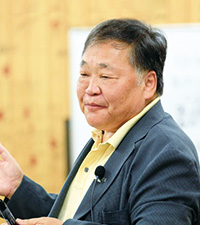 Chief Operating Officer Okinawa Institute of Science and Technology Graduate University

Keisuke Yoshio
OIS is committed to its philosophy, an education that prepares students to become internationally literate through two types of inquiry learning: the International Baccalaureate and the International Liberal Arts. Those initiatives are getting more attention. I am sure that the education at OIS will help you develop a true sense of your culture, different cultures and communication skills, which are indispensable for you to survive and thrive in an international society that is now undergoing a major transformation. I have high expectations for OIS.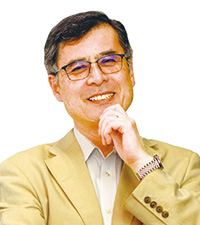 Please feel free to contact us if you need any further information.