International Baccalaureate Course
IBコース
Bojan Brink(Germany)
Philipps University Marburg(BA, MA)
Acquiring Academic English, Creativity and Critical thinking skills
Acquiring Academic English, Creativity and Critical thinking skills
You can give yourselves a pat on the back and say that you made the right choice to come to OIS. What will await you here are not only smiling faces and the fresh air of the countryside but also high-standard learning opportunities in an authentic and challenging English learning environment.
It's not a mere slogan that IB's Diploma Programme can open many doors. It's true and if you work hard enough the Keios and Oxfords will not stay to be mere dreams. It's my pleasure to accompany you on your 2-year journey through the Diploma Programme as your TOK and English B teacher. You can count on me to help you through an exciting, challenging and surely unforgettable part of your life and boost your English and critical thinking skills. Let us work together to make it a fruitful time.
この学校には、自然ゆたかな環境で笑顔を絶やさず、楽しく学習できる魅力がありますが、なおそれ以上に、本物の英語を学べる環境があります。 知識を詰め込むことだけではなく、創造力と批判的思考を養いつつ、世界のあらゆることが学べます。 みなさんの人生の高校生活という貴重な時間に、英語と知の論理の授業を通して、私たちは全力でサポートしていきます。 一緒に実りある充実した時間を過ごしましょう。
International Baccalaureate(IB) Secondary Education Program [MYP] for 1st-year students
MYP's intensive academic and interdisciplinary approach to learning goes beyond the acquisition of knowledge to help students develop a global perspective and proactive mindset by asking how what they have learned connects to society.
2nd & 3rd year students are challenged with the IBDP
IBDP(International Baccalaureate Diploma Programme)
The knowledge and skills developed in the MYP are carried over into the IBDP deeper and broader, which focuses on six groups and three unique IBDP curriculum cores for dedicated exploration. Before graduation, students will take a standardized exam. The exam has a maximum score of 45 points, with a score of 24 or higher to receive an IB Diploma; a score of 40 or higher ensures admission to top universities around the world.

Okinawa International School Secondary Education is an authorized school of the IB Diploma Programme. The school became an authorization as an IB World School. IB World Schools share a common philosophy ‒"commitment to high-quality, challenging, international education," which Okinawa International School believes is important for our students.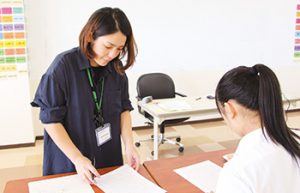 The DP curriculum consists of the following six groups(subjects) and three compulsory core requirements

IBDP 6 Groups
Language and Literature
Language Acquisition
Individuals and Societies
Science
Math
Arts
Students select subjects from the six groups and study them over two years. Also, in order to obtain the specialized knowledge and skills required at the university and subsequent occupations, students learn three to four of the six subjects at a higher level(HL/240 hours each) and the others subjects at a standard level(SL/150 hours each).
The IBDP Core
In order to obtain a diploma, in addition to meeting the assessment requirements of the six subjects, students must also take the following three compulsory core subjects.
TOK:Theory of Knowledge

At least 100 hours of learning is required to facilitate a high level of critical thinking skills. Students will explore the essence of knowledge. Students are encouraged to develop their ability to perceive things in their own way and be aware of cultural sensitivities.

EE:Extended Essay

To nurture a high level of research and writing skills, intellectual discovery, and creativity, students choose a topic from their studies and complete an in-depth individual research project. They then summarize their results in an Extended Essay of 4,000 words in English. (8,000 characters are required if written in Japanese)

CAS:Creativity/Action/Service

Through involvement with people, students engage in experiential learning and cultivate a range of perspectives including awareness of the human mind and spirit, humanitarian issues, desire for discovery, autonomy, independence, creative artistic and proactive exchange activities.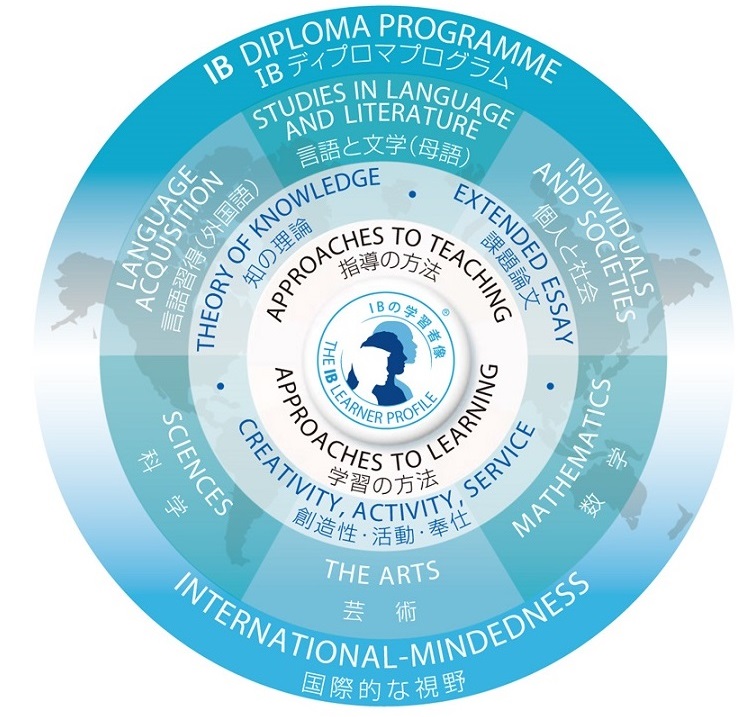 Please feel free to contact us if you need any further information.