Academics
Academics
Learners seeking for global standard education
Learners seeking for global standard education
Learners'Profile in OIS
Learners'Profile in OIS
In addition to the credits required to complete a high school course set by the Ministry of Education, Culture, Sports, Science and Technology, students at this secondary school can build their ideas upon a unique curriculum tailored to their career path and destination. The school attracts highly motivated students from Japan and abroad who have high aspirations working for the United Nations and international organizations in the future.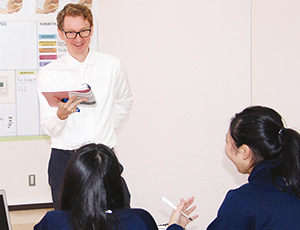 Intensive instruction in small class size
Intensive instruction in small class size
The small class sizes in the school's inquiry-based learning environment produce great results. Students are encouraged to exchange ideas from a variety of perspectives and to respect each other's opinions in order to reach the truth. It's an ideal environment for developing communication skills.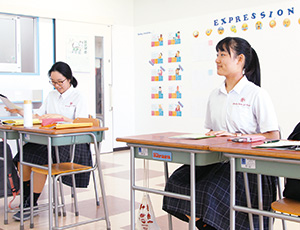 Multilingual Education Programs
Multilingual Education Programs
Multilingualism is the ability to communicate in more than one language. Developing students' language skills is the mission and responsibility of all teachers at our school. We value a learning environment in which students are encouraged to broaden their international perspectives, understand different worldviews, and share multiple perspectives through multilingual education.
The CEFR is an international standard for measuring language proficiency
The CEFR is the Common European Framework of Reference for Languages, a learning, teaching and assessment tool for foreign languages. It is an international benchmark that measures foreign language proficiency across linguistic boundaries and borders. We use WIDA, TOFEL and IELTS, which are used in 100 countries around the world, as a guideline for the acquisition of advanced language skills.

Intensive Japanese writing skill instruction

Japanese students learn the "logical structure of the Japanese language" and improve their ability to express themselves in Japanese sentences. This is very useful for learning English and improving other languages and logical thinking.

Japanese Language Instruction for Foreign Students

For foreign students, we set goals such as the Japanese Language Proficiency Test (JLPT) to improve their Japanese language skills. Being multilingual in your native language, English and Japanese is a lifelong skill that will serve you well.
Menu