Guidance
Guidance
The pathway to universities across the world
The pathway to universities across the world
Students who earn a diploma in an IB course are recognized as having completed an international standard high school education, and many universities in Japan
and overseas are opening their doors to them.
Students from ILA courses who have improved their academic and communication skills can also go on to study at universities in Japan and overseas with the aim of playing an active role in the international community.
More Universities accept IB students
24 National and Public Universitie
Tokyo University, Kyoto University, Tsukuba University, Tokyo University of Foreign Studies, Tokyo University of the Arts, Ochanomizu University, Kanazawa University, Nagoya University, Tohoku University, Osaka University, Okayama University, Akita International University,Yokohama City University, Osaka City University, Hiroshima University, Nagasaki University, Kagoshima University, Aizu University, Tokyo Metropolitan University, Tsuru University, Matsumoto Dental University, and 3 more
139 Private Universities
Waseda University, Keio University, Kogakuin University, International Christian University, Juntendo University, Sophia University, Tamagawa Academy & University, Toyo University, Hosei University, Rikkyo University, Nippon Veterinary and Life Science University, Nagoya University of Commerce & Business, Chukyo University, Aichi Medical University, Kwansei Gakuin University, Ritsumeikan University, Ritsumeikan Asia Pacific University, Kindai University, Kyoto University of Foreign Studies, Toyohashi University of Technology, Kobe College, Meiji Gakuin University, Chuo University, Aoyama Gakuin University, Seinan Gakuin University, and 14 more
More than 2,500 universities around the world
Harvard University, Boston University, Brown University, Pennsylvania State University, Columbia University, University of California Los Angeles UCLA, Stanford University,
University of California Berkeley, Yale University, New York University, Princeton University, University of Oxford, University of Cambridge, King's College London, University of Edinburgh, The University of Sydney, The Australian National University, The University of Melbourne, University of Toronto, The University of Queensland, The University of British Columbia, etc
Schools of Medicine, Dentistry, Pharmaceutical Sciences and Veterinary Medicine accepting IBDP graduates
Academic and Career Path Support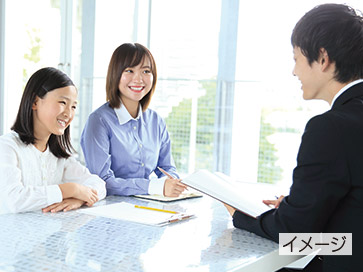 We place great importance on having a "heart-to-heart talk" with each student, and we have a thorough guidance system in place to help students with everything from career counselors to determine the target university and to prepare for exams. Based on the course in which you are enrolled, your language ability, and the qualifications you have acquired, we will help you choose the most suitable course. We will support you in detail by discussing with you what kind of career path you want to have in the future.
Please feel free to contact us if you need any further information.