Open Campus ・Information Session
Open Campus ・Information Session
OPEN CAMPUS / 一般授業参観
IB教育のリアルを見にいらしてください。
IB初等教育課程(PYP)、中等教育課程(MYP)、高等教育課程(DP)をすべて見学できるのは沖縄ではOISだだけです。
IB教育に興味を持っている方はどなたでも参加可能です。
高等部はILAクラスへのご参加も可能です。
南城キャンパス
PYP(初等部)         6 月 5 日(月)- 6 月 9 日(金)09:30 – 12:15
MYP(中等部)           6 月 5 日(月)- 6 月 9 日(金)09:30 – 12:15
DP / ILA(高等部)   6 月 5 日(月)- 6 月 9 日(金)09:30 – 12:15
09:30 – 09:40 オリエンテーション
09:40~     授業参観及び個別相談(初等部-高等部まで参観してください)
参加お申込はこちら
OPEN CAMPUS / 一般授業参観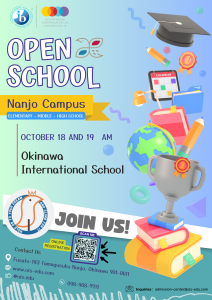 <Open Campus>
Date: Wednesday, October 18, 2023
Thursday, October 19, 2023
Place: Okinawa International School Nanjo Campus
Address: 143, Fusato, Tamagusuku, Nanjo, Okinawa 901-0611
<Details>
♦ Middle School and High School Department
・October 18:Only come to Nanjo Campus
・October 19:in Nanjo campus or Online streaming
Application:Here
(Application deadline: October 16, 2023, 5:00 p.m.)
《Middle school and High school schedule》
8:30  Registration / 受付
8:40- 9:35 Information session  ※ Only October 18
      Class observation ※ October 19
9:35 – 10:30 Class observation
10:35 – 11:30 Class observation
11:35 – 12:20 Class observation
Open Campus
Date : July 8, 2023
Place:Nanjo Campus (143, Fusato, Tamagusuku, Nanjo, Okinawa)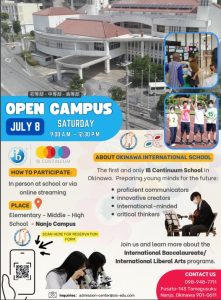 <Schedule>
8:45 – Registartion starts
9:00 – 9:50 Opening & Information session
10:00 – Class observation (Period 1)
11:00 – Class observation (Period 2)
12:00 – Free inquiry session
12:30 – End
Application : Here
(Application deadline: July 6, 2023, 5:00 p.m.)
OPEN CAMPUS!
Hello, everyone.
We are pleased to inform you of our Open Campus.
The Open Campus is great opportunity for you to see our daily classes and students in action.
If you are interested in our school, or if you are considering let your children enrolling or transferring to our school, we would be very happy if you could come and visit us.
Open Campus Programs (TBD)
uring School tour, you can meet the principal, teachers, school community, and discover more about the International Baccalaureate & International Liberal Arts Programs.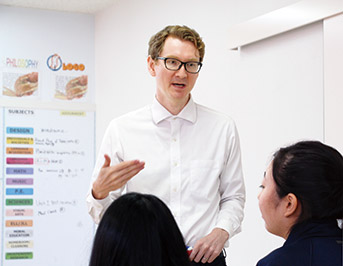 Individual admission consultation / school tour
held at any time
Contact Us : 098-948-7740
✉admission-center@ois-edu.com
Please feel free to contact us in advance if you would like to make an appointment.
Please feel free to contact us if you need any further information.