International Liberal Arts Course
ILAコース
Anja Sueyoshi(Germany)
Ludwig-Maximilian University Munich
Knowledge and skills only for risk takers
Acquiring Academic English, Creativity and Critical thinking skills
If you are curious and seek knowledge beyond grades and certificates, then you have come to the right place. The OIS ILA course is unique, unlike any other! Advanced humanities and science courses? Sure, you will find plenty here! And yet we offer more…
From traditional Okinawan arts such as Bingata to developing mental skills through mindfulness practice, we offer a holistic curriculum to help you develop lifelong skills. If self-growth through challenge in a community of like-minded individuals is something you might enjoy, then the OIS ILA course is definitely the right one for you!
If the thirst of any person who seeks truth can be quenched only after their journey of self-discovery has advanced, then we, at the OIS PSTA, kindly challenge you to begin your next quest…
We, at the OIS PSTA, therefore, kindly challenge YOU to join us!
もし皆さんが、成績や修了証を越えた本物の知識を得たいなら、ILAコースはそれにふさわしい学びの場です。
人文科学の教科では、卓越した教養を身につけることができます。 また、紅型などの伝統工芸を通して情操を養い、総合的なカリキュラムで生涯にわたって必要なスキルも育成されます。 ここには、好奇心を持って果敢に挑戦できる仲間がいます。探究心を持ち、挑戦し続けた者にしか得られないものがあります。私たちOISは、飛躍をめざす皆さんを常に全力でサポートします。OISから新たな一歩を踏み出しましょう!
A unique global education curriculum that explores the truth
Global education and knowledge that transcends the boundaries of the humanities and science
The society in which we live is faced with a wide variety of problems, ranging from domestic problems, international relations, environment, and political economy. In order to confront and solve these problems, society needs people with global knowledge and education in both the sciences and the humanities.
Develop 'Seekers of Truth' who can make correct judgments and take action
At ILA, we emphasize the importance of understanding diversity rather than searching for the "one right answer." We develop students' ability to communicate their own opinions and reach mutual understanding while respecting the ideas of others, and to make correct judgments and take action while taking other points of view into consideration, even in a society inundated with information from social networking sites. Students will learn to become a "globally educated person" who seeks the "truth."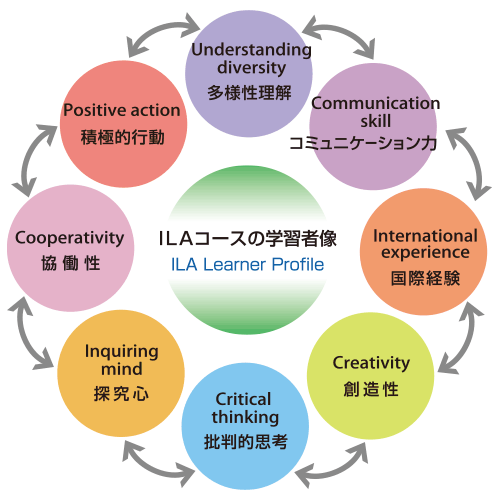 Not focused on textbooks or examinations, students will learn to find their own goals and dream universities
Student-centered class where students are always the leading role
Transdisciplinary curriculum and inquiry-based learning are essential to the development of academic skills. The most important aspect of inquiry learning is the process in which students raise their own questions, work hard to solve them, and explore to find the answers (truth).This is not the kind of learning that takes place in tests and exams where students are expected to seek answers to questions that already exist.
Teachers design lessons in teams
The ILA is a transdisciplinary curriculum that covers the humanities, social sciences, natural sciences, and mathematics. Each teacher shares their own lesson plans with the teaching team to help each student achieve a deeper understanding of the content.
Acquiring Academic English
Students will take the WIDA test to determine their level of English language proficiency. Students will also take the TOEFL Junior or TOEFL test twice a year to prepare for the TOEFL requirement to be eligible to study abroad.

OIS Mid-term study abroad program
OIS Mid-term study abroad program
We will continue to increase the number of countries and schools for study abroad programs.
We will also offer short-term (1-month) courses to help as many students as possible to have a valuable experience.
Please note that each course has a different program schedule. Please refer to our website for the latest information.
●Experience the difference
Language and lifestyle differ from country to country. In order to objectively know, learn and understand these "differences," it is important to prepare for your departure and to spend several months studying abroad.
●Knowing what we cannot do
During the time abroad, facing and dealing with those unexpected barriers in everyday conversation, etiquette, and expression of emotions will help you grow.
●Achieving the GOAL
In Japan, deviation scores and university acceptance are important. By the world's standards, this is odd.
In the international community, high school students should already have their future goals in mind.
Why do we learn? The essence of studying abroad is that the time you spend talking with your classmates from different backgrounds will surely help you to find your own answer.
Monterey Bay Academy (MBA)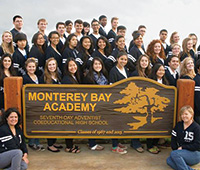 Location

California, US

Period

Mid-August to late December

Accommodation

Dormitory on campus by gender

School type

Coeducational and Boarding school
Partner with an international student support organization. Japanese support is available.
Napa Christian campus of education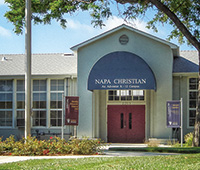 Location

California, US

Period

Mid-August to late December

Accommodation

Homestay

School type

Coeducational School
Currently, there are 12 international students from 9 countries (including high school students)
Please feel free to contact us if you need any further information.