2020 Summer School Program! Improve your English & Have Fun doing outdoor activities
Registration for this year's event has been extended to Aug 3rd.
However, catering and bus service might not be available as usual.
From this year, we have a new program for our middle and high school students. The program combines intensive English courses with exciting outdoor activities, such as horse riding, Scuba Diving, Sea Kayaking…) Attached please find the flier with the program details and costs. The program is open for students from Grade 6 to Grade 12. It will be highly appreciated if you can recommend the program to any friends, parents and students who may be interested.
Please note the following key dates:
1st Session (July 27 – 31, 2020) / Sign up by: Wednesday, July 15th
2nd Session (August 3 – 7, 2020) / Sign up by: Friday, July 24th
3rd Session (August 10 – 14, 2020) / Sign up by: Friday, July 31st
Participants can sign up for all 3 sessions or any 1 or 2 session(s). If you would like to sign up, please complete the google form below:
If you have any questions about the program, feel free to email us at office@pst-ois,jp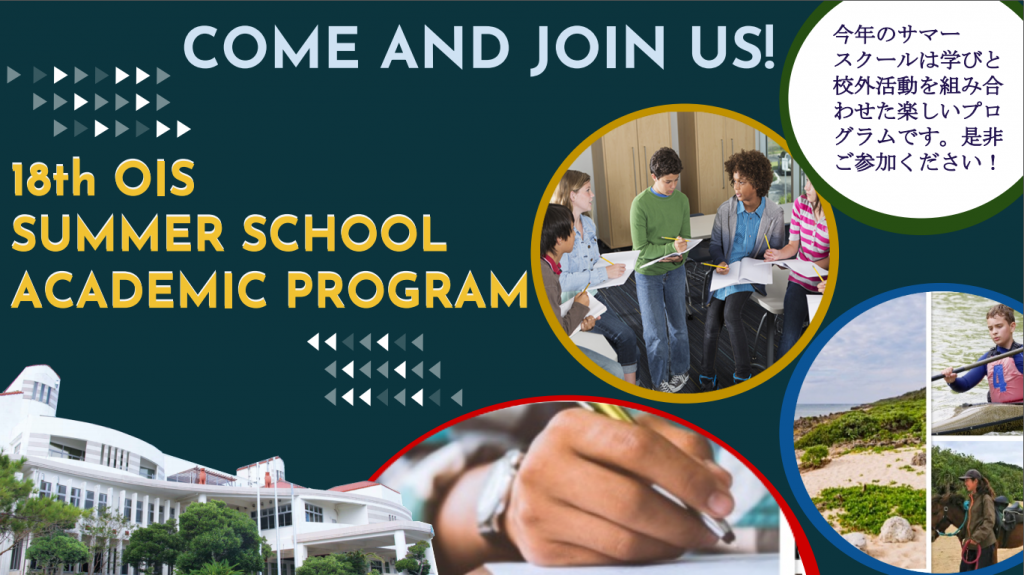 Due to the spread of the new coronavirus, please check for symptoms before coming to school or boarding a school bus.
We are sorry that if you have symptoms of a cold or fever over 37.5 degrees Celsius or having strong lethargy or shortness of breath, you cannot join the summer program on that day.
If you have any of the above symptoms, please contact the office.
Thank you for your cooperation.